It reached into the high 80's (almost 90) today so Summer is deffientaly here. YEAH! :)
I found this on
Vash's
blog and I just had to share it.
numa numa
I didn't do much today. I got some things done around the house then I relaxed stitched and Watch the Red Sox game. Today's game was much better than yesterdays for two reasons. The first is we won. :) and the second is that it was Queer Eye for the Straight Guy day at Fenway today. The season premiere of the show is this Tuesday and it is the episode that was done this past Spring with members of the Boston Red Sox. In honor (gee was this an honor?? :) ) of this they had 3 of the 5 guys from the show at Fenway to though out the first pitch.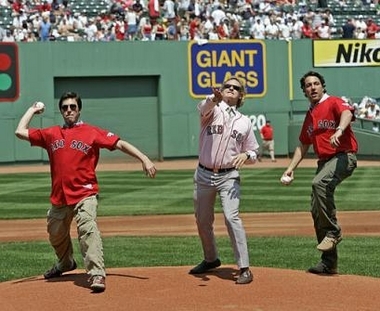 Kyan, Carson & Tom

I knew Ted wasn't going to be there but, I don't know what happened to Jai...mmmmm I'll have to read the Boston papers and see if I can find out.
Ok I found out!!! :)
I got this from the Boston Globe
"Many who brought children to yesterday's game said they had no problem with the presentation, which included a rendition of ''The Star Spangled Banner" by Rodriguez, the ''culture vulture" of ''Queer Eye." Pitching honors fell to Douglas, the ''grooming guru," Filicia, the ''design doctor," and Kressley, the ''fashion savant," who stood out in a rose-colored Red Sox jersey."
So Jai sang the national anthem. I wish NESEN had shown all of this. :( They are suppose to be doing something on the pregame show about it tonight so hopefully we'll get a recap.
While I was watching the game I started and finished a Blackwork Owl that I've had my eye on for a while and I finally got the pattern.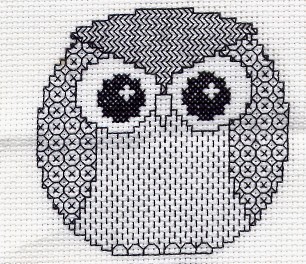 Owl

I think he's such a cute thing. :)