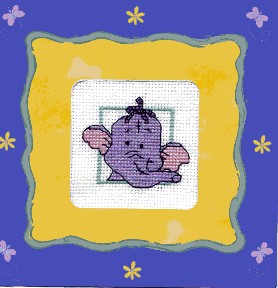 Lumpy

Another small quick finish for me tonight. I saw this free kit with the August issue of Quick and Easy Cross Stitch. He just made me smile looking at him so I knew I had to get him and stitch him. I hope to be able to stitch on one of my SAL pieces tomorrow. I'll just have to see what calls to me.
Thanks to everyone who had a look and posted aboutmy finished Harry Potter bear. You all know how good it feels when you finish a piece so I can say that this felt Soooooooo good! :)
It's been so hot here lately at night I've not really felt like doing much of anything. It's even been to hot to stitch but, I've made myself so I could get my HP bear done. I'm going to try and drop him off to get framed next week sometime. I'm wondering if I should try using someone else besides the place I've been brining my stuff to lately. No reason. I like the way they do my stuff and they are quick. Plus I have a 15% off coupon for the next itme I bring in to be framed. So I guess I'm headed back there.
No Red Sox tonight. There is a preseason football game on that I had a peek at for a few minutes.